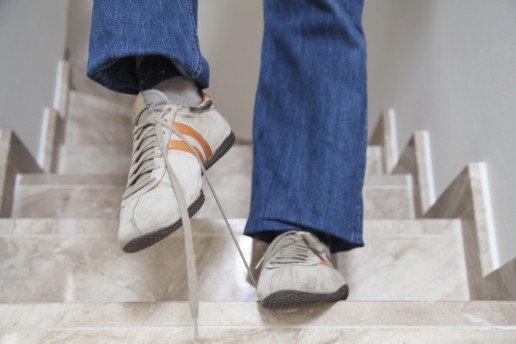 Prevent Broken Bones by Preventing Falls
Have you ever stood on the edge of your bathtub in your socks to clean the upper tiles?  Perhaps, after catching yourself in a near slip, you promised yourself you'd never do that again. Then, just a few weeks later, you crawl up there all over again.
Taking chances that we know are foolish is a common cause of fall-related injuries among people of all ages, but it is especially dangerous after the age of 70, when bones are weaker and take longer to heal. A fall after the age of 70 can impact your mobility and quality of life permanently.
Dr. Aribindi is here with helpful information to make your home – and you – safer to avoid serious injury.
Most homes contain plenty of trip hazards, including piles of papers, loose carpets or floorboards, extension cords and clothing that has been dropped on the floor, besides accidents like water or grease on the kitchen or bathroom floor.
Remove electrical cords and phone cords from walkways and store boxes and bags in closets.
Make a clear, wide path between tables and other furniture and keep magazine racks and plant stands out of high-traffic areas.
Secure loose rugs with double-faced tape, tacks or a slip-resistant backing. Better yet, remove throw rugs from your home completely.
Repair loose, wooden floorboards and bubbling carpeting immediately.
Store clothing, dishes, food and other necessities within easy reach.
Immediately clean spilled or splashed water, liquids, grease or food.
Use nonslip mats in your bathtub or shower. Consider a bath seat, which allows you to sit while showering.
Keep your home brightly lit to avoid tripping.
Place night lights in your bedroom, bathroom and hallways.
Place a lamp within reach of your bed for middle-of-the-night needs - and use it each time you need to get out of bed.
Remove any obstacles to light switches that aren't near room entrances. Install glow-in-the-dark or illuminated switches.
Make a habit of turning on the lights before you use the stairs.
Keep charged flashlights in accessible spots in the kitchen, bedrooms and bathroom.
Wearing sensible shoes helps with balance and fall prevention.
Avoid high heels, flip flops, slip-ons, backless shoes and shoes with slick soles.
Make sure shoes are tied or strapped securely, with no trailing laces or flapping tongues.
Wear rubber-soled slippers instead of unstable socks indoors and wear sturdy, well-fitting shoes with non-skid soles outdoors.
Think before you reach, climb or balance.
Purchase a safe stepstool or lightweight short ladder and always use it when retrieving items that are in upper cabinets or closet shelves.
Consider using a "grabber", a pincher at the end of a pole, for lighter weight items that are up high.
When shopping, ask a sales clerk to retrieve an item on the top shelf; don't try to stand on shelves or the cart to get it yourself.
In your home, move frequently used items to lower cabinets or shelves to avoid reaching or climbing at all.
Beyond making these modifications to your house, you can further reduce your risk of falls by improving your strength, balance, coordination and flexibility.  Join an indoor walking club at your local mall or park district, begin strength training, participate in water workouts and take yoga classes.
When you are avoiding physical activity because you are scared of falling, call our office and make an appointment with Southland Orthopaedics by clicking here or calling 708-238-2600. Dr. Aribindi or physical therapist Trina will create a custom exercise program to improve your balance, flexibility, muscle strength, gait – and your confidence!