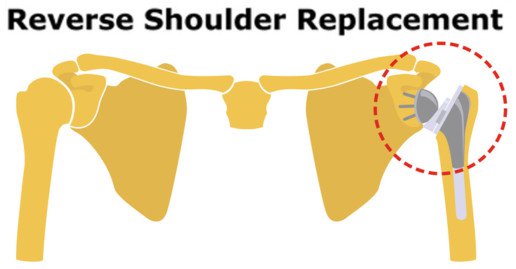 Is Reverse Shoulder Replacement Right For You?
Your shoulder joint has the greatest range of motion than any other joint in your body - except when things go wrong.  When age, injury and arthritis create problems that can cause pain and immobility, a shoulder replacement may be necessary.
Standard shoulder replacements are designed to replace portions of your shoulder joint with a metal ball and plastic socket in the same positions as the original ball and sockets. However, when your tendons are severely damaged or arthritis is severe, a reverse shoulder replacement may be a better way to improve your shoulder function and reduce pain.
What Is A Reverse Shoulder Replacement?
In a reverse shoulder replacement, the shoulder joint is still replaced with components made out of metal and plastic, but in reverse; the ball is placed where the socket used to be and the socket is placed where the ball used to be.
Who Is a Good Candidate?
You and Dr. Aribindi might consider a reverse shoulder replacement when there is significant  arthritis of the shoulder joint and the rotator cuff tendons are either torn or gone. This procedure may also be considered when the rotator cuff tendons are torn and you cannot lift or move your arm enough to function in daily life. If you've had a standard replacement before the reverse option was available and you still have pain and loss of motion, you may opt for the reversal as well, to dramatically improve your quality of life.
What Should I Expect On the Day of Surgery?
You will most likely receive a nerve block, and then you'll be put under a general anesthetic. Your incision will be in the front of your shoulder, and the procedure will take about 3 hours. You'll start moving your fingers, wrist and elbow within 24 hours, after the nerve block wears off.
Recovery
Depending upon your health and results, you may spend a day or two in the hospital after the procedure. Typically your shoulder will swell, and it may be painful. Dr. Aribindi will prescribe pain management medication. Cold compresses may be used to control the swelling.  At first, your arm will be in a brace to keep it stable and immobile. Within a day or so, you will start physical therapy to get your arm and new shoulder working again. Your arm will be in sling for most of your recovery and physical therapy will be required after you go home. The exercises that your physical therapist prescribes will gradually increase your range of motion, improving your joint and your quality of life.
Healthy shoulders are vitally important to a healthy life. Shoulder pain and limited arm movement restrict your ability to perform daily tasks that are critical to living independently. A reverse shoulder replacement will give you significant pain relief and expand the range of motion in your shoulder and arm.
Are you ready to talk about a standard or reverse shoulder replacement? Dr. Aribindi is ready to answer all your questions! Just call 708-283-2600 or click here to make an appointment!